The pharmaceutical industry has been an easy target for critics over the years. There is a perception that "Big Pharma" is strictly out for profit and that pharmaceutical companies will stop at nothing to line the pockets of their shareholders. The reality is this: Many of these drugs are saving lives and helping people live happier, healthier lives.
Better Health Outcomes
According to the U.S. Bureau of Labor Statistics, the pharmaceutical industry develops and produces products that help treat a variety of diseases, saving millions of lives and helping people suffering from diseases and illnesses to recover and lead more productive lives. The pharmaceutical industry develops drugs that treat every type of condition imaginable, such as influenza, sexually transmitted diseases, cardiovascular disease, diabetes, hepatitis, Parkinson's disease and cancer, to name a few. Many of these are devastating and life-altering diseases, and these products help keep patients alive longer.
Cost
While some may view the cost of pharmaceutical drugs as a negative aspect of the industry, you can also see cost as a benefit. According to the Pharmaceutcial Research and Manufacturers of America (PhRMA), the market share of generic pharmaceuticals was between 42 and 58 percent in 2006. What this means is generic drugs are increasingly available to patients, which drives down costs. Most reports in the media discuss the high cost of drugs and lack of access for certain patients, but the reality is that drugs today are cheaper and more accessible than ever before due to increased competition in the marketplace. Additionally, economic development in countries like India and China are driving down global prices for pharmaceutical products even more.
Economic Benefits
Pharmaceutical companies employed nearly 300,000 people in the United States in 2008, according to the Bureau of Labor Statistics, and nearly 87 percent of the companies in the pharmaceutical industry employed more than 100 workers in 2008. The tax benefits to the United States are substantial as well. Pfizer alone posted $44 billion worth of revenue in 2008, according to Contract Pharma. The economic climate impacts the pharmaceutical industry, but profitable companies result in more taxable revenue for the U.S. People may criticize this amount of profit from one company, but consider this: The underlying goal of every single business is to make money. People single out pharmaceutical companies for making profits, but it's important to remember that they also create products that save millions of lives.
The pharmaceutical industry is one of the most desirable to work for worldwide. There are many reasons for this, but it is principally due to the tremendous benefits and prestige that these companies offer. Research technicians, analysts of every variety, engineers, nurses, doctors, phlebotomists, scientists, biologists, chemists, medical ethicists, microbiologists, geneticists and others such as quality control experts, factory workers and field personnel fill out the careers in this industry.
General Qualifications
Due to the complexity and the management of corporate proprietary processes, positions in this industry are highly valued. Higher levels of education are the norm in this industry. Research technicians are one of these positions because they conduct experiments under the watchful eyes of the lead scientist. Bachelors' degrees are usually the minimum educational requirement, with masters and doctorate degrees preferred in the specialty areas. Workers on the factory floor on the other hand can get by with a high school diploma or General Equivalency Diploma and a certificate of ability to work with forklifts, as an example.
The Scientist
If scientific research is your qualification, the reasons for joining a pharmaceutical company (pharma) may lie in the grand flexibility of conducting various research models or focusing on one thread of a larger spool, such as dedicating years to finding a process that may one day cure a disease.

After a discovery is found, the process is passed along to the other members of the research team such as the biotechnologist and on to others as well to find any variant that may harm or improve the quality of the newly discovered development or culture.
Some Statistics
In 2006, pharma and other medical manufacturing provided over 290,000 positions. Most in-facility positions are located Pennsylvania, New York, Illinois, California, Texas, New Jersey, Indiana, North Carolina and Puerto Rico according to the Bureau of Labor Statistics, there should be a 23.7 increase in all positions by the year 2016. Most workers in the industry have a minimum of a bachelor degree and there are twice as many individuals with degrees as in any other industry.
Pharmaceutical Sales
For persons with virtually any type of sales experience, the top of the mountain would be pharmaceutical sales. The benefits are simply outstanding and include a nice car with fun toys and two credit cards, one for gasoline and the other for entertaining customers, which happen to be physicians. The main responsibility is to convince the physician that the product you have works better than the product from the competitor. Physicians are showered with pens, cups, promotional samples, prescription forms and other materials that bear the product's name and logo.

Success in the ability to convince physicians to prescribe a particular product is tracked by how much of the product is sold and/or ordered from the pharmacies in the zip code during a given time, which happens to be in the assigned territory.
The Final Word
The pharmaceutical industry is a challenging and rewarding place to work, but be aware of companies that make false claims about preparing people to enter the industry by offering certificates of completion and/or training of some sort. Unless a company is recruiting right from the university, chances are that they want people with industry experience or verifiable success in advertising sales. The reason for this is simple: if success is proven in the advertising industry, then you know first hand what rejection is. In pharma sales, you will receive plenty of rejection.
The fashion industry is a thriving industry, creating the billions of dresses, suits and other clothing and accessories consumers purchase. The fashion industry works in the following way: The process for creating ready-to-wear or haute couture clothing starts with fashion market research and trend forecasting. Designers work to create the apparel drafting. After the design has been approved by the designer, apparel production begins. Once the product is complete, fashion marketing and fashion buying come into play. The process ends with fashion merchandising retail. The product is seen in department stores and high-end boutiques.
History
Western fashion has evolved over centuries. The 16th century in Europe saw apparel sewn with broad shoulders and heavy-cut velvet decorated by intricate lace and fine gold. This was especially seen in the fashion worn by aristocrats. Fast-forward two centuries, and women's fashion consisted of domed skirts and cinched waists. Western society leaped into the 20th century with short skirts baring leg. As the fashion industry has evolved, designers have perfected new designs and brought into style new fabrics.

In the 19th century, English settlers brought the textile industry to the U.S. Women in the U.S. during the 1800s had their dresses tailor-made. As the tailors noticed similarities among the women for whom they sewed, they developed patterns. Hence, pattern making was born. Apprentices learned the patterns and how to make them, becoming designers and dressmakers. The fashion industry continued to evolve into the mega-marketing industry it has now become.
Significance
The fashion industry is made up of clothing manufacturers, designers, models, behind-the-scenes make-up and hair artists, merchandisers and buyers. The single element common among these roles is that these professions are extremely creative. Each professional has been trained in a highly specialized field.

The fashion industry is important to the culture of each society, as the byproducts of each designer provide a style or identification of the person wearing the clothes. Style is an identity marker, and the fashion industry is essential to transforming individuals solely by what they wear.
Function
Aside from designing one-piece wonders for elite clientele such as Hollywood mega stars, which serves as a catalyst for more economical couture designs, the fashion industry clothes us all. Be it famous brand-name jeans or brands marketed solely by retail chain stores, the fashion industry is the source of all the designs, material choices and marketing via models showing off the clothes on Paris, Milan or New York runways.
Types
The fashion industry is composed of two primary sectors: ready-to-wear (couture) and haute couture (high fashion). Ready-to-wear makes up the bulk of fashion because it is less expensive than haute couture and far more easily accessible. Designers showing promise might make their mark designing haute couture.
Geography
The fashion industry spans the globe. Western societies have metamorphosed drastically since earlier centuries. Asian societies, too, like India's enormous Bollywood film industry, make use of extremely diverse and talented pools of designers who dress every movie's heroines and heroes.
The apparel industry is an important sector of the American economy. More than 750,000 people are employed in this field according to the Bureau of Labor Statistics. One of the most vital parts of the clothing industry are clothing retailers. Clothing retailers buy and sell clothing to the public. In order to do so they must obtain clothing in great quantities. Buying wholesale clothing at cheaper prices can help the retailer earn a profit.
Instructions
Determine what type of clothing you want to buy. Wholesale clothing includes many different types of items. You can choose to buy wholesale outwear such as hats and coats. You can also choose to buy dresses, shorts, shirts and skirts. Buy wholesale clothing for a specific season at least three months in advance. Orders for fall items should be placed no later than early June.
Obtain an EIN. An EIN is an Employee Identification Number. The IRS assigns an EIN to people in business for tax purposes. You can get one for free from the IRS website. An EIN identifies you as a member of the apparel industry to other industry members. Some wholesalers will let you purchase from their stores without one. Many will not.
Investigate wholesalers. Wholesale clothing retailers are quite varied. Some wholesalers specialize in a specific area of clothing such as sportswear or formal gowns. Others offer clothing for purchase in many different areas. If you are opening up a clothing store, you may have to work with many different wholesale clothing vendors in order to stock your store.
Buy clothing. Many wholesale clothing vendors typically have both a retail store and a website. Buying from a retail store can be easier if you live near one. If you don't have a wholesale clothing vendor in your area, you can still order items online. Look closely at the website. A site should have a picture of each item for sale. The site should also include a detailed description of the clothing offered including the type of material used, the sizes offered and the composition of details such as buttons and other fastenings.
Place an order. Orders from retail stores can be delivered to your door if you don't have a truck for larger items. Wholesale clothing orders can also be shipped to your address from a website. Allow at least a week for delivery.
Café establishments primarily sell refreshment drinks, snacks and light meals, with coffee being their flagship product. These businesses must employ innovative strategies, such as diversification of menu offerings, to increase sales and remain competitive. The industry's growth prospects are dictated by issues such as availability of disposable income in households and changes in customers' preferences for meals and drinks.
Market Trends
Cafés generate much of their revenues from coffee, a product that accounted for more than 83 percent of hot beverage sales in 2012, according to the Small Business Development Center Network. Tea and other nonalcoholic drinks are also favorites among café customers. However, snacks and light meals contribute significantly toward the overall revenues of cafes.
Industry Performance
The coffee and snack shops industry is a $30 billion market that grew at average annual rates of 2.7 percent between 2009 and 2013, according to a report the IBISWorld website in 2014. This shows the industry grew at steady rates through those years, despite the negative impact of the recession that rocked the economy from 2008 to 2010.
The Competitive Landscape
Independently owned cafes can thrive, provided the owners correctly identify their niches and avoid direct competition with the big brand name stores. According to Business Valuation Marketing, the top 50 coffee shop companies–think Starbucks–have captured around 70% of the U.S. market. Small companies can compete by offering products the larger competitors don't provide. For example, cafes offering individually brewed coffee in exotic flavors can generate a large following among coffee enthusiasts.
Steel erectors, also known as iron workers, construct the frames of tall structures, including skyscrapers, hospitals, parking garages, air traffic control towers, manufacturing plants and universities. They perform a range of services from shear stud or joint installation to building renovation to metal decking. Steel erectors either control derricks and cranes, or direct crane operators, in transporting buckets of concrete, reinforcement bars, structural steel components and other necessary materials to their position on the building.
Learning the Job
Steel erectors usually need a minimum of a high school diploma and a broad understanding of mechanics, design and engineering. Most complete three or four years of an apprenticeship to learn the tricks of the trade. Eligibility differs by the organization, but apprenticeships generally require candidates to be physically able to handle the work, to be a minimum of 18 years old and to pass a substance abuse screening. Steel erectors can't be afraid of heights, and they must have excellent depth perception, balance and physical strength.
Covering the Details
For each new project, steel erectors collaborate with their team to create construction and safety plans, evaluate location-specific hazards, review drawings in detail and determine procedures for welding and crane logistics. Steel erectors cut various materials for installation and weld or use bolts to connect beams, girders and columns to other structural pieces. Depending on the specifications of the project, they may install wires, ladders, gauges, flanges, valves, sealing strips or insulated materials.
Safety and Stability
Steel erectors are often responsible for putting together and breaking down temporary shelters and similar equipment that's used during the construction process. They also prepare support and safety equipment around work sites. According to the Occupational Safety & Health Administration, steel erectors are constantly on narrow working surfaces that are several levels above the ground. OSHA notes that many erectors start working at the top of the structure, where anchor points higher than foot level tend to be unavailable or limited.
Advancement and Employment
According to the U.S. Bureau of Labor Statistics, most steel erectors get certified by the American Welding Society. (See Reference 1: How to Become One tab; Licenses, Certifications and Registrations) It reports that those with certification in crane signaling, rigging and welding may receive higher pay than workers without credentials. (See Reference 1: How to Become One tab; Licenses, Certifications and Registrations) The BLS classifies steel erectors under the broader category of structural iron and steel workers, who earned an average annual income of $51,590, as of May 2013. (see Reference 6) It reports that employment opportunities are expected to increase 22 percent between 2012 and 2022, which is must faster than the average of all occupations at 11 percent. (See Reference 1: Job Outlook tab; paragraph 1)
The financial planning and analysis department within a corporation is responsible for preparing the annual plan and long-range or five-year plan. Financial planning and analysis professionals also prepare monthly, quarterly and annual management reports that compare actual results to forecasts. This department is a segment of the finance division of a company, and usually reports to the chief financial officer. The financial planning and analysis team also assists with the monthly accounting close, making certain journal entries are prepared correctly and on time.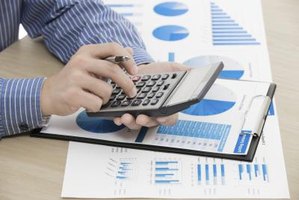 Education and Training
Financial analysts are expected to have, at minimum, a Bachelor of Science degree in finance or accounting. Having a Master of Business Administration degree is highly desirable, particularly for career advancement. Some companies require that analysts have a Certified Public Aaccountant designation to ensure they understand "Generally Accepted Accounting Principles" and apply these principles to the reports they prepare.
Skills
Financial planning and analysis professionals must have a thorough understanding of advanced financial analysis techniques using spreadsheet software, as well as any specialized financial forecasting software their company may have. They must be able to design reports that present both actual and budget data in a concise manner for use by top management in decision making. They are required to communicate well, both orally and in writing, as they are asked to make presentations to upper management.
Responsibilities
Senior management depends on information and recommendations provided by the financial planning and analysis department to make critical decisions such as those regarding multimillion dollar capital expenditures and mergers and acquisitions. If the information the analysts supply is flawed, there can be significant negative financial consequences for the company as a whole. Success in this career depends on being able to interpret data and draw conclusions, not just to compile numbers.
Challenges
Finance planning and analysis can be a high-pressure career because, during the planning cycle, there are tight deadlines that must be met. The financial reports that analysts prepare can involve presenting negative news to senior executives, who may challenge the accuracy of their reports. They are often given special analysis projects, such as mergers and acquisitions, that must be completed under extremely tight time frames and often with insufficient or limited data.
Rewards
Because the financial planning and analysis expert interfaces with all departments of the company during the planning process, this career can be a learning experience to gain an understanding of how other departments, such as marketing or purchasing, are managed. This knowledge can help financial analysts advance into a senior management role later in their careers. It can also be a stepping stone to becoming chief financial officer of the company, because the financial planning and analysis department is heavily involved with the day-to-day operations of the accounting department. Financial planning and analysis professionals, even junior analysts, are asked to prepare reports or make presentation to top executives, so this career can help young professionals develop poise and self-confidence.
Hardened steel is a type of medium to hard plain carbon steel that has undergone
heat treatment
, quenching and further reheating. Components made of hardened steel have a hard exterior casing and a robust core, and include arbors, axles, link components, driving pinions, camshafts and cardan joints. Application areas of components made from hardened steel include transportation, energy generation and general mechanical engineering. Types of hardened steel include Z60CDV14, Sandvic 12C27, CPM440V and ATS34.
Hardened steel is resistant to wear, rough usage, high-impact pressure and shock. It is used to make power shovels, steel balls, nozzles, surgical instruments, crushers and plates for rock-processing. Steel with a sufficient amount of chromium that undergoes heat treatment hardens to form chromium carbide particles, which increase the wear resistance of the steel alloy. Hardened steels with a greater concentration of carbon contain a higher amount of chromium carbide and exhibit enhanced wear-resistance properties.
Corrosion Resistance
According to "Surface Engineering for Corrosion and Wear Resistance," corrosion costs the U.S. billions of dollars annually by affecting materials and metallic surfaces used in industries. Hardened steel is resistant to corrosive chemical environments, potable water and atmospheric corrosion. Hardened steel is applied with corrosion-resistant coating to further enhance its resistive properties.
Abrasion Resistance
Hardened steel offers exceptional resistance to severe sliding abrasion and is able to withstand drilling and punching. Its abrasion-resistant properties enable hardened steel to be used in aggregates quarries and hard-rock mining, and to make conveyors, chutes, highway truck beds, crushers, hoppers and troughs.
Durability
According to "Steel Heat Treatment: Equipment and Process Design," the durability of heat-treated hardened steel is at least twice that of untreated and oil-treated steel. Hardened steel is used to make knives, the optimal hardness of which depends upon the proportions of carbon, manganese and chromium. Examples of hardened steels used in knife-making include the 154 CM (chromium 14 percent, manganese 0.5 percent and carbon 1.05 percent); 420HC (chromium 13.5 percent, manganese 0.35 to 0.9 percent and carbon 0.5 to 0.7 percent); and ATS34 (chromium 14 percent, manganese 0.4 percent and carbon 1.05 percent). Knives made from these hard steels last longer than those made from regular soft to medium steels.